Objective
Expand on target insight, structure customer journeys accordingly, improve existing customer relationships by increasing Customer Lifetime Value, and stimulate drive-to-store actions with an emphasis on up/cross-selling.
Solution
4 Marketing Automation flows to communicate with the parents during the most important growth phases of the child. Starting with an initial profiling phase, leading into customized and targeted actions.
"

With Marketing Automation we engage with parents during the most important moments of their baby's life cycle. We succeeded in profiling more than 8% of our Customer Base in just one month, increasing its interest in non-core product as well.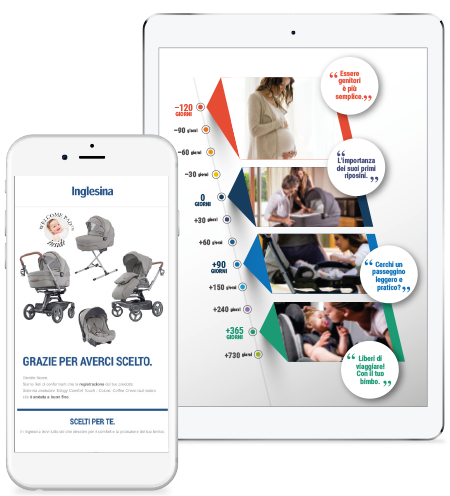 Results achieved
Building a quality relationship means knowing the customer and gaining his trust starting from, for example, the birth of a child, accompanying them along all of life's milestones birth of a child. This path begins even before the due-date, a key field upon which the entire Marketing Automation project is based.