The Strategic Map is the magnews tool that allows you to organize projects based on your business objectives by defining the target audience, channels and information of value for the brand.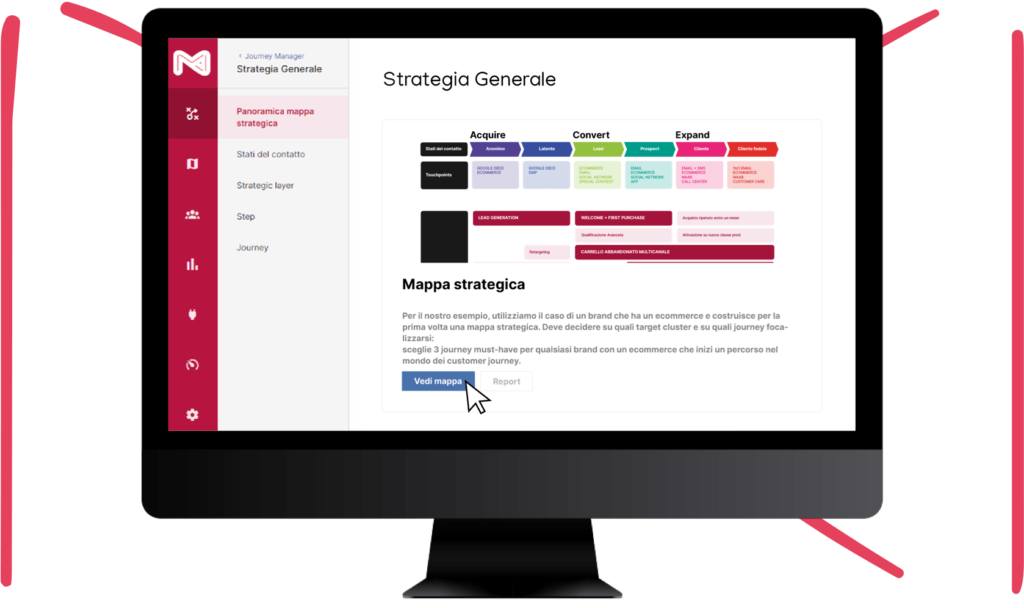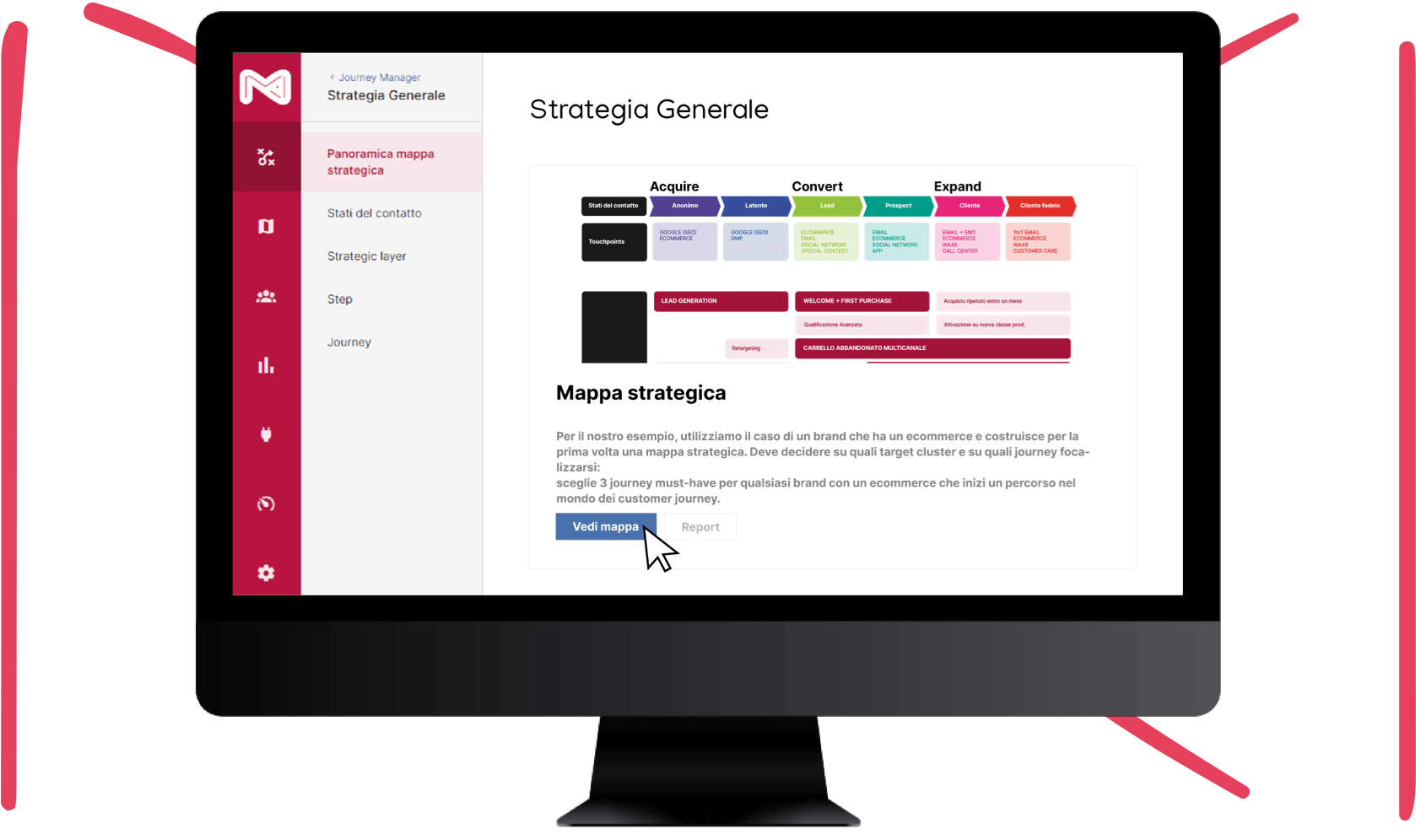 There are so many tools available but never something that allows me to organize and line up the objectives of the company in terms of operational aspects.
The Strategic Map offers me a tool that works for both the Management, to provide an overview of what we do, as well as the operational department, to give them a strategic overview of operations and to organize projects.
Elisabetta Bruno – Magnews Chief Marketing Officer
An overview of all projects the brand is involved in to
achieve business goals.
Objectives & Contact Status.
Define business data.
Touchpoint selection for each objective.
Single Project View.
Build Journeys.
STEP 1
Objectives & Contact Status.
Each goal corresponds to a contact status. Communication aims to put the brand in front of existing or prospective customers. To activate a communication it is necessary to define a channel, and in our case we often start with the simplest one, an "email".
Obviously, this alone is not enough, so it will be necessary to associate to each objective an advancement of the contact in our database in order to understand which project to implement in regard to "only" the correct target.
Let's start from the identification of macro objectives and target clusters:
Build business objectives:
Acquire: Increase Brand visibility to expand the top of the funnel and acquire new contacts.
Convert: Drive contacts to perform actions of value to the Brand
Expand: Increase the value and frequency of valuable actions taken by contacts, increasing their loyalty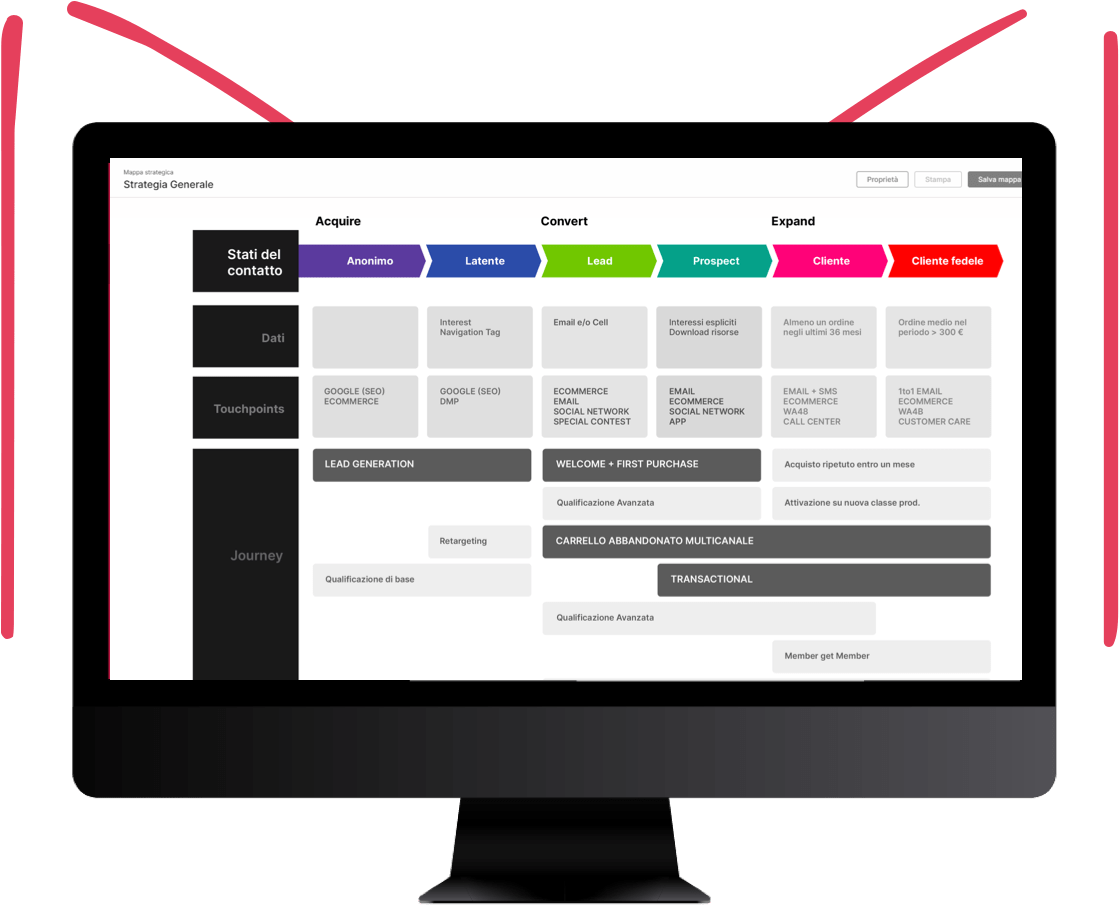 STEP 2

Define business data
A fundamental step is to consider what information is required to get to know the customer that will contribute "only" towards attaining your conversion and loyalty goals.
Don't make the mistake of asking for the same data by having the same people fill out the same form over and over again, or asking for data that isn't fundamental to sell additional products.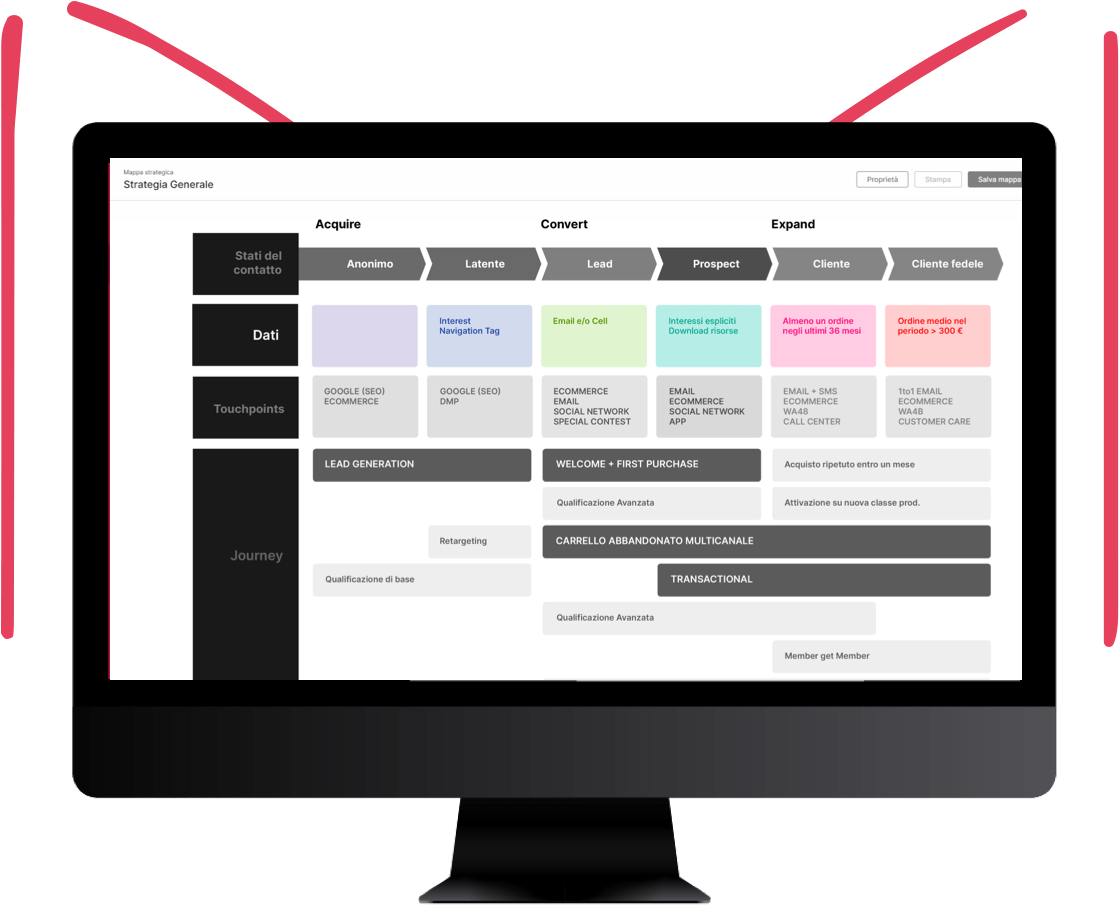 STEP 3

Touchpoint selection for each objective:
We have defined the objectives in relation to the contact states; for each one we have associated the information that will contribute towards achieving the business objectives. At this point, all that remains is to match the objectives with the corresponding touchpoint.
If we have an objective of lead generation, the channels will have to be those of contact acquisition, and the status of the contact will be from Anonymous to Lead.
Once the touchpoints have been listed, thanks to the Strategic Map, we will already know what information to insert in the relative form; in fact, we can simply draw from step 2 of the data.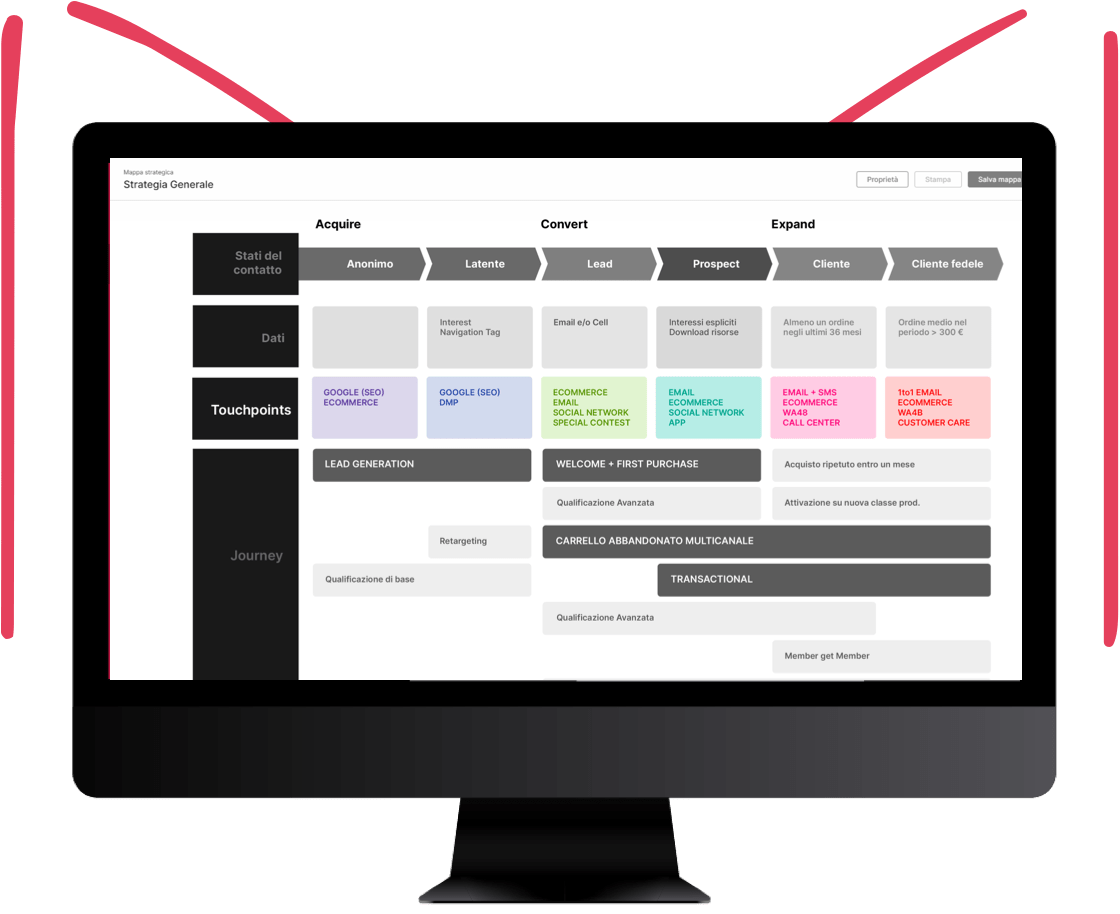 STEP 4

Single Project View
The Strategy Map allows you to have an overview of all the projects of the brand in order to reach your business goals.
You can constantly monitor the progress of your contacts in the various states and check what percentage of your business goals you have achieved.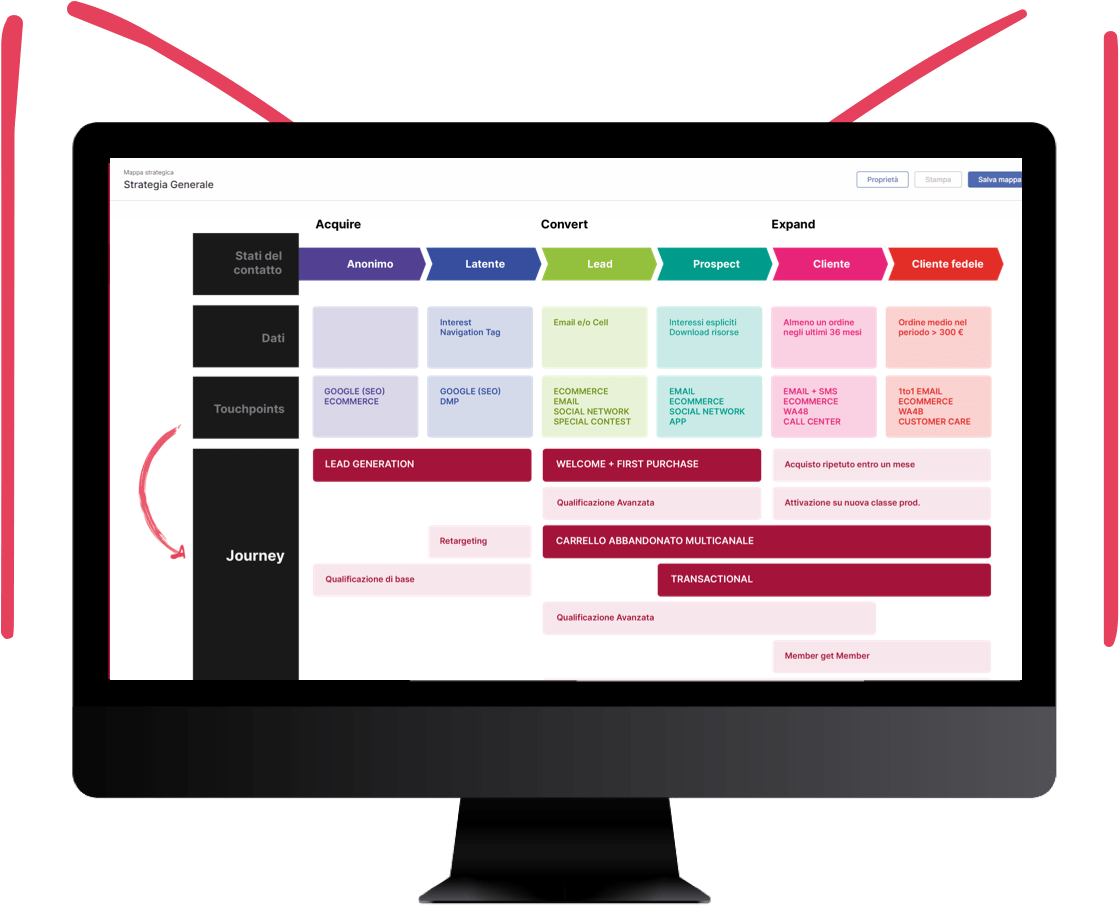 STEP 5

Build the Journeys!
At this point, we have organized and defined our goals for building projects. The next step is then to build Customer Journeys with Journey Design.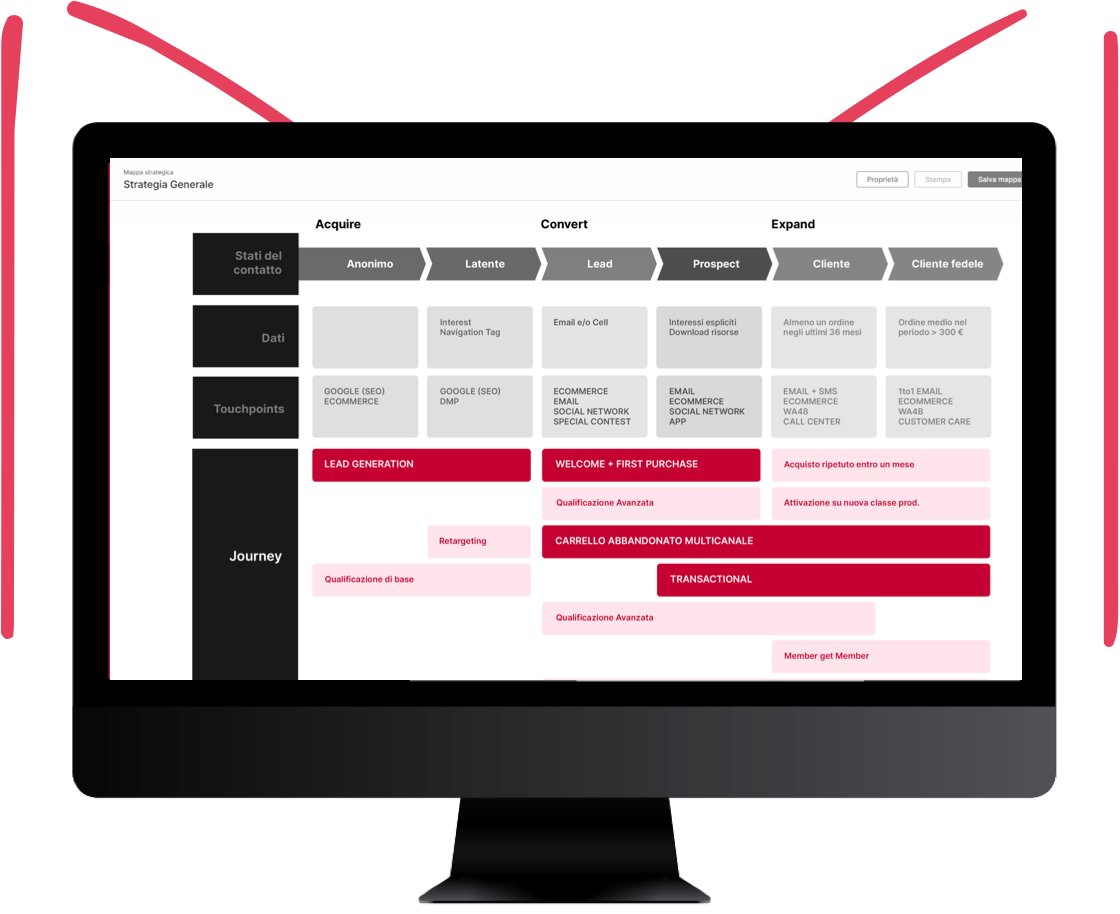 Business goals success stories
Customers and partners: case studies that show how
magnews makes it possible to work for the success of companies
.
CLIENTE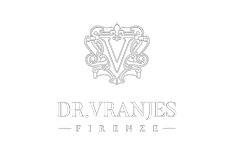 PARTNER +207%
COMPARED TO THE SITE AVERAGE
Magnews has been fundamental for the integration between our channels, thanks to its seamless connection with Magento. Marketing automation is the ideal tool for our eCRM strategy focused on Italian and international customers.
ROBERTO SCANU - ECOMMERCE MANAGER AT DR. VRANJES FLORENCE
CLIENTE PARTNER +128%
increase in open rate
+133%
increase in click rate
AMP for email has allowed us to offer Findomestic users a better experience, while making it faster and more interactive. We're still testing new approaches to learn about which content is most effective, but we're already seeing significant improvements across all metrics.
ANDREA PACI - UX DESIGNER FINDOMESTIC BANK
CLIENTE PARTNER With the support of magnews' marketing automation integrated to our CRM, we have been able not only to improve and more effectively monitor our existing communication flows, but also to imagine new ones to reach our supporters at the time that is best and most suited to their needs - for a donor-centered fundraising strategy, this is essential.
CHIARA COLOMBO – OF DONOR BASE DEPARTMENT ACTIONAID HEAD
CLIENTE PARTNER The first question we ask ourselves when we want to quickly start a new business is: can it be done with magnews? Often the answer is yes. That's why it has become a fundamental tool for our company
MARCELLO GRANATA – VP OF PRODUCTS AT GEK LAB
Privacy Management and Data Protection:
Our commitment to your most important asset.
We consider privacy management and the protection of Personal Data to be essential. Discover our tools and processes for full GDPR compliance.
We work
for the success of companies
. 
Do you want to know how magnews can solve your business needs?
If you have questions about modules, integration within your systems and technology infrastructure, data protection, pricing or any other aspects, contact us for a no-obligation consultation.
You will be able to see a platform demo or carry out a short evaluation on your company to find out whether magnews is the right product for you!
A contact request can change the value of your results.