More than 20 years in the market…
Magnews logos over the years

2021


The values that make
our work wonderful.
We always guarantee the best service and the best possible solution in terms of efficiency and effectiveness, in order to meet the needs of our customers.
We carry out our work with competence, consistency and thoroughness, so that our knowledge is always in step with the evolution of our business.
Our unwavering commitment to fairness and credibility in which all customers, the company and colleagues can place their trust on a daily basis.
We have a mutual trust that generates the right synergy of skills, responding to the demands of increasingly complex projects thanks to the exchange of ideas and points of view.
We put ourselves out there thanks to a professional and emotional drive that comes from a complete integration between our goals and those of the company.
We want to constantly improve and invest in our wealth of knowledge, keeping ourselves up to date thanks to an irrepressible curiosity.
MORE THAN 20 YEARS IN THE MARKET
Magnews: A brief, simple history.
In over 20 years of activity, magnews has been the technology behind the Customer Journey projects of thousands of Companies and Brands, in all sectors.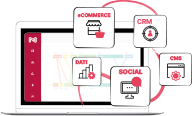 Piattaforma integrata di comunicazione multicanale e automatica.

Do you want to know how magnews can solve your business needs?
If you have questions about modules, integration within your systems and technology infrastructure, data protection, pricing or any other aspects, contact us for a no-obligation consultation.
You will be able to see a platform demo or carry out a short evaluation on your company to find out whether magnews is the right product for you!
A contact request can change the value of your results.