Profile Studio:
Set up referral profiles, manage your contacts' rules, analyze engagement.
Profile Studio is a magnews module that allows you to enhance your most important asset – "the contact" – by integrating the information collected by magnews with that of your systems.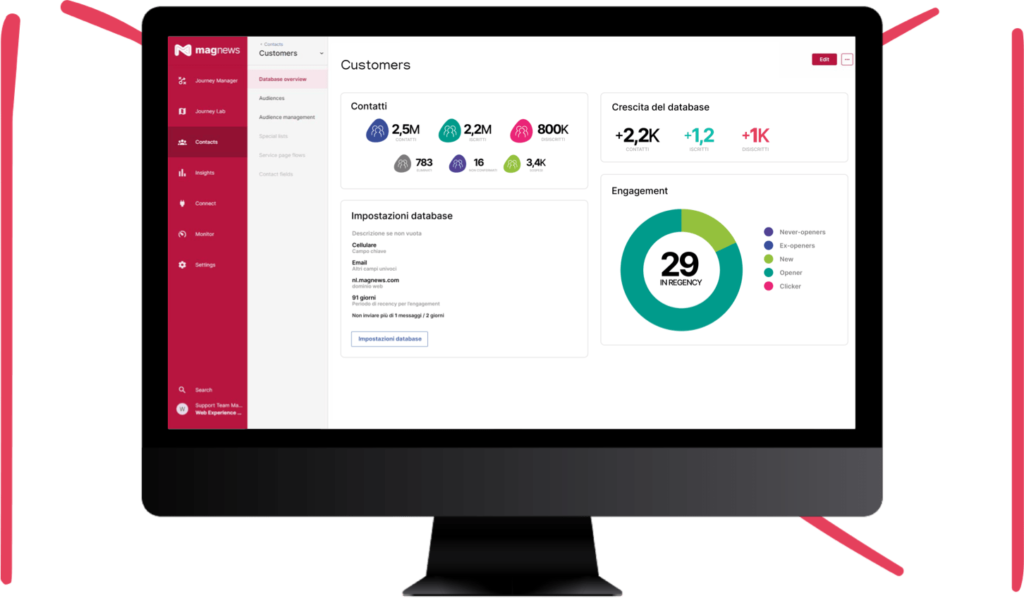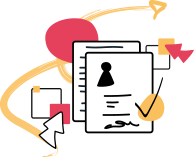 Create a marketing database in line with your communication needs and internal processes, visualize every action and behavior of your contacts, categorize and segment your audiences, analyze the universe of data, understand your audience and extract useful insights for your business.
CRM Marketing.
Contact History.
Conversion Goals.
Communication, marketing, internal processes, training. Any need requires one key element: recipients. For this reason, the ability to design a coherent, scalable database capable of evolving is a critical factor in the choice of a solution.
Feed growth. The dynamism underpinning the results
Your database is continuously enhanced with new contacts and ever richer data that define its features. Capture information from multiple channels and systems and compile it in a centralized hub.
Segment. Understand your audience to act
Data on your contacts, interactions with touchpoints and communications, behaviors and interests. With magnews you constantly analyze the universe of your data, identify different audiences and build relevant actions for each contact.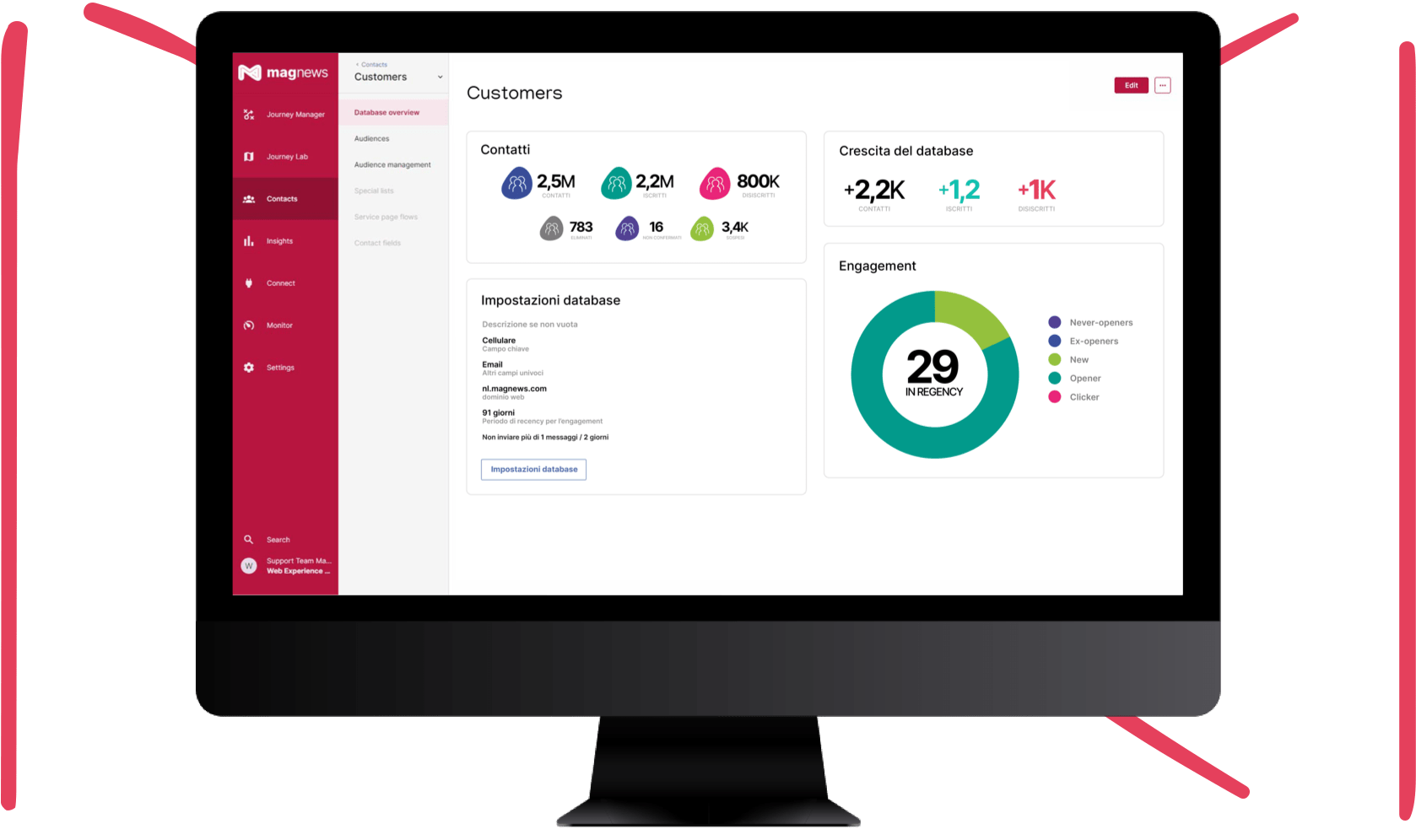 Behavior matters.
What pages are visited, what content is read, what communications are opened and read, how many clicks, what they bought or how long it has been since they made a purchase, what support requests have been made, and any other data you might want. Everything you need for modeling actions with a sure return.
magnews collates all events and actions that the platform records.
Classify and segment your audience based on interactions with communications to set up the right actions for each contact and maximize results.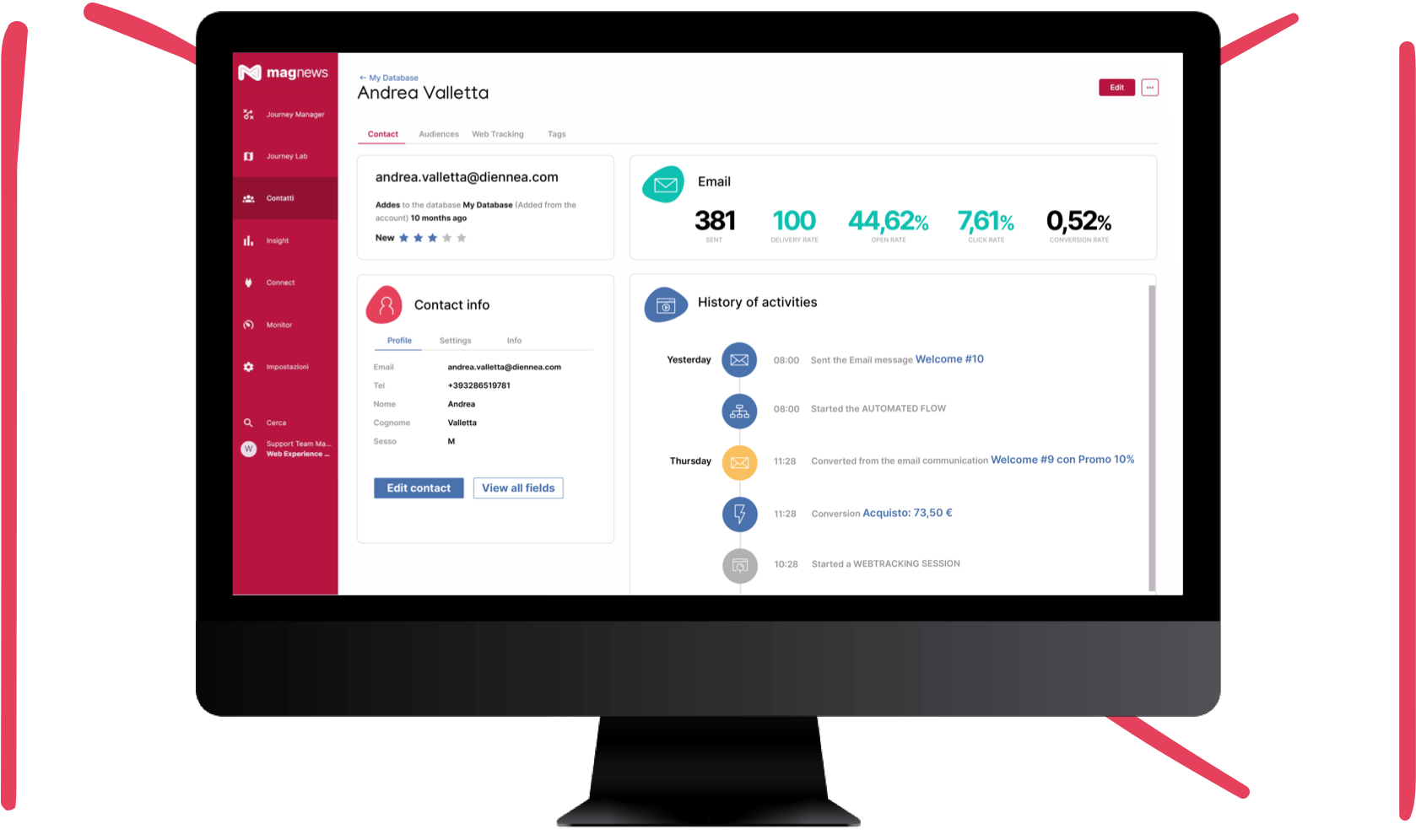 Conversion Goals.

Thanks to Conversion Goals, you are able to track valuable actions that contacts take on your digital properties and link them to individual communication actions to better assess their effectiveness.
Which actions bring the most conversions? Which campaigns generate the most value? Which assets are downloaded the most? Conversion goals help you track this and make your actions more results-oriented.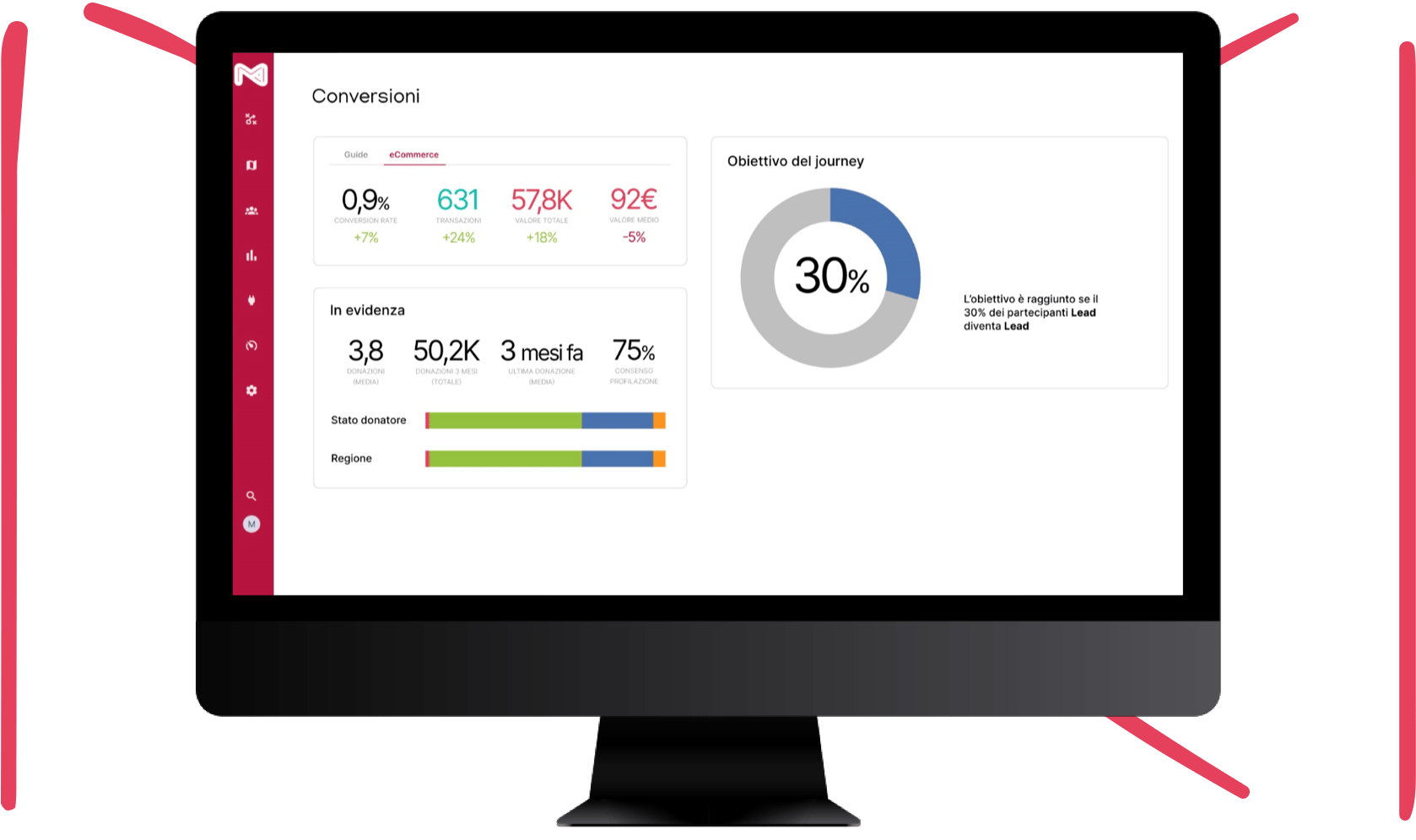 Business goals success stories
Customers and partners: case studies that show how
magnews makes it possible to work for the success of companies
.
CLIENTE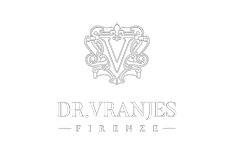 PARTNER +207%
COMPARED TO THE SITE AVERAGE
Magnews has been fundamental for the integration between our channels, thanks to its seamless connection with Magento. Marketing automation is the ideal tool for our eCRM strategy focused on Italian and international customers.
ROBERTO SCANU - ECOMMERCE MANAGER AT DR. VRANJES FLORENCE
CLIENTE PARTNER +128%
increase in open rate
+133%
increase in click rate
AMP for email has allowed us to offer Findomestic users a better experience, while making it faster and more interactive. We're still testing new approaches to learn about which content is most effective, but we're already seeing significant improvements across all metrics.
ANDREA PACI - UX DESIGNER FINDOMESTIC BANK
CLIENTE PARTNER With the support of magnews' marketing automation integrated to our CRM, we have been able not only to improve and more effectively monitor our existing communication flows, but also to imagine new ones to reach our supporters at the time that is best and most suited to their needs - for a donor-centered fundraising strategy, this is essential.
CHIARA COLOMBO – OF DONOR BASE DEPARTMENT ACTIONAID HEAD
CLIENTE PARTNER The first question we ask ourselves when we want to quickly start a new business is: can it be done with magnews? Often the answer is yes. That's why it has become a fundamental tool for our company
MARCELLO GRANATA – VP OF PRODUCTS AT GEK LAB
Privacy Management and Data Protection:
Our commitment to your most important asset.
We consider privacy management and the protection of Personal Data to be essential. Discover our tools and processes for full GDPR compliance.
We work
for the success of companies
. 
Do you want to know how magnews can solve your business needs?
If you have questions about modules, integration within your systems and technology infrastructure, data protection, pricing or any other aspects, contact us for a no-obligation consultation.
You will be able to see a platform demo or carry out a short evaluation on your company to find out whether magnews is the right product for you!
A contact request can change the value of your results.