Objective
Reactivate inactive customers, increase loyalty and better identify habitual senders. Incentivize microcustomers to increase their shipping activities.
Solution
DHL Connection: a year-round bespoke contact plan with personalized communications focusing on target audiences, to increase interaction with the brand and encourage further use of services.
"

With DHL Connection we were able to communicate in an engaging way with our users throughout the year by continuously offering relevant content. We generated engagement with our active customers and re-engaged a significant number of inactive customers, with a very positive effect on sales turnover. An important achievement, in line with the company's core principle of customer centricity.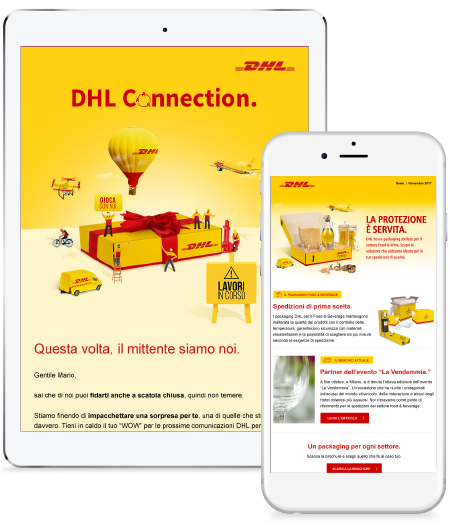 Results achieved
DHL Connection resulted in the participation of over 70,000 contacts, most of whom were actively engaged in the communications and contests of the project, and incentivized to act. In addition to achieving strong Open- and Click-Through Rates, the project supported DHL in bridging the gap between Sales and Clients, increasing revenue for several categories of interested clients.