Objective
Improve the conversion rate by integrating interactive and dynamic messages into the email channel, ensuring a noteworthy user experience bringing email to the top of the lead generation value chain and conversion touchpoint.
Solution
Introduction of AMP emails that enable the recipient to interact within the email without ever leaving the inbox. This allows the user to choose which banking product they need directly from their email.
"

AMP for email enabled us to provide a better experience for Findomestic users, making their experience both faster and more interactive. We're still exploring new approaches to understand which content is the most effective, and we are already able to see significant improvements in all metrics.
MagNews' Email Marketing is a scalable SaaS solution that Findomestic uses for the creation, management and integration of multichannel marketing campaigns. In this latest joint project, Magnews added a new functionality: AMP4email. A protocol that transforms email communications, into a true, interactive email experience that delivers real-time information that updates throughout the day.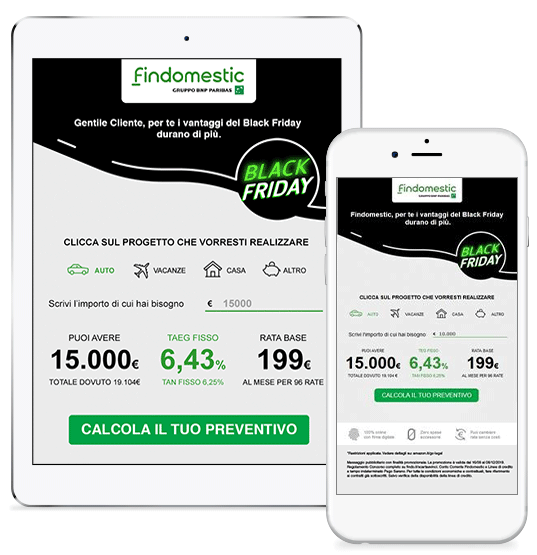 It is an entirely new way to receive email, enabling us to build the offer and provide the call to action directly within a single interface. Findomestic decided to adopt AMP4email in its email messages, greatly improving the email experience for its users. The purpose of the communication was to bring the user to take interactive actions directly within the email, calculating the financing rate of a new loan, thereby creating an upselling action for Findomestic.
The user is able to choose the project (by clicking on the icon), edit the amount they wish to receive (in the drop-down menu) while  the algorithm produces the amount due with interest rates. All this happens inside the email, without the need to be redirected to an external landing page with possible delays or connection issues. Therefore, there is zero latency by the calculation tool, as it's all embedded in the email.
The first A/B split testing on Black Friday communications (AMP VS Classic email communication) led to:
128% increase in Open Rate  (35.4% vs. 15.5%)
133% increase in Click Rate (1.4 vs 0.6%)
The numbers speak for themselves. Thanks to AMP4email, Findomestic was able to build a continuous and seamless brand / customer relationship experience that was dynamic, new and impactful, where users were engaged and curious to go back and play with the content more than once.