The corporate version of the messaging app we've all come to know and love.
The user version was first created in 2009 while the business version was released for Android at the beginning of 2018. To date, it is compatible with almost all operating systems.
Reasons for using Whatsapp for Business
Let's have a look at the numbers to best understand why companies see Whatsapp as an extremely productive channel.
Over 2 and a half billion users worldwide
32 million Italian users alone (eMarketer)
A penetration of over 50% in the Italian market
The main advantage of using Whatsapp for Business is the possibility of conducting a direct conversation with your users by leveraging that space considered somewhere between an email and a phone call due to the immediacy of the channel.
What is the preferred channel of users for interacting with a Brand?
Additionally, users adopt it as their main means of daily communication: from one-to-one chats, group chats and even in cases of dark social traffic.
What you can do with Whatsapp for Business
For companies, intercepting users on this channel can prove to be a winning formula.
By using Whatsapp for Business, brands are able to personalize their accounts, for example:
Choose a corporate image (logo) as their profile photo
Insert a description of their Brand
Add their address, time stamp and useful contact information
It is also possible to set up auto-replies outside business hours or create a default message when accepting a request that cannot be replied to immediately.
When the focus is on gaining customer loyalty, providing a customer care service that answers promptly is fundamentally important. You can create FAQs with automatic replies, send welcome messages, and receive feedback during 1-to-1 conversations. The experience you can offer your customers will grow to be more and more unique and personal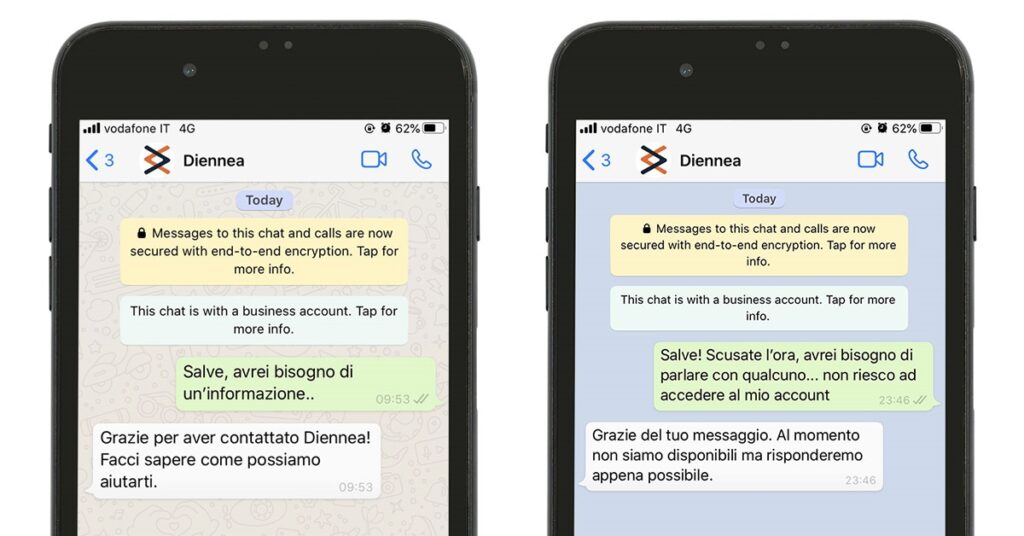 MagNews and Whatsapp for Business
With the introduction of the Whatsapp channel, our goal is to offer our clients the chance to manage their customer journeys in an increasingly complete manner.
Allowing the user to decide their preferred channel for brand communication is the basis for constructing a valuable customer experience.
Start conversing with your users, discover the new integration between MagNews and Whatsapp for Business.