Customer Journey: let's start with the definition
One word is sufficient to define the concept of Customer Journey: Relationship.
Let's talk about the relationship that develops between the brand and its users, turning a generic lead into a loyal customer. A continuous journey made of numerous touchpoints that drive purchase choices.
If a company plays its cards right, it will be able to reach business goals such as acquire new contacts, increase sales and, at following conversion, become the first choice of a potential new purchase.
How is a Customer Journey structured?
From Funnel Marketing to Customer Journey
The Journey begins when a user expresses a need. From here, they move into a consideration phase of various alternatives, which culminate into a choice. This journey is represented by the marketing funnel: a funnel featuring many more users at the top than at the bottom.
The Customer Journey is the "thread" that binds the single consumer to the various steps in the funnel. If it is built right, this Journey creates a unique bond between brand and user.
The benefits are clear: on the one hand we have greater satisfaction, and on the other, we have the ability to trigger up/cross-selling actions on the same user while acquiring new customers.
We can think of the Customer Journey as a circle. It starts with a research phase, which through a series of touchpoints, then enters into a loyalty phase and the process starts all over again.
Would you like to build a successfull Loyalty Program? Find out about the case of Campagnolo:
Likewise, a company's business objectives: acquisition, conversion and loyalty can perfectly overlap in this depiction of the Customer Journey. The circle starts with building of a user base (acquisition) to then move to the sale (conversion), with the goal of building a long-lasting relationship over time, ending with loyalty.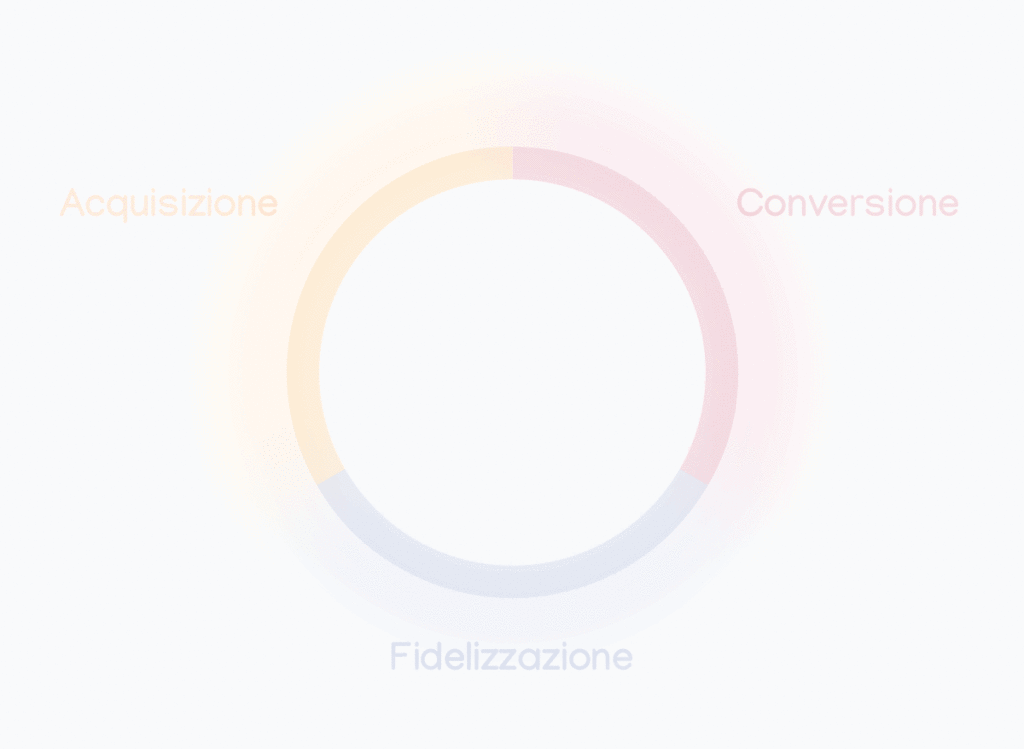 How to "map" the Customer Journey and identify its touchpoints
The Customer Journey is made of all interactions between brand and user. These touchpoints are real moments of contact, and can be divided into:
Traditional
Digital
External
Traditional touchpoints
By traditional touchpoints, we mean those related to the so called "marketing 1.0". They include any successful media from the past, that still exists today: TV, OOH (Out-of-home) advertising, magazines, shops and events.
Digital touchpoints
By now, these have become fundamental for every business: website, email, online advertising, SMS and social media pages.
"External" touchpoints
These are those over which a company has no direct control: WOM (word-of-mouth), reviews, forums, blogs and backlinks.
Knowing your customer is essential when choosing the right one to use. Only after careful analysis can we choose the best experience to offer and which touchpoints are needed to build it.
How can we respond to this need?
By analyzing the existing customer base, determining both the positives and negatives of our offer. This information can be retrieved using our Data Science services, which combine user-generated data both on our properties (website, CRM, Marketing Automation platform, etc.) and on external tools (such as social networking platforms). Having visibility over what channels perform better than others is a fundamental element of a good strategy.
Thanks to platforms like MagNews, we can build integrated, omnichannel journeys based on our company's business goals.
Focus: the Acquisition goal
Building a customer base upon which to plan subsequent actions must be the company's first objective. We must not think of it as just an initial strategy, to be used only when the brand is taking its first steps: it is in fact an ongoing and always active process.
This is a very important phase, as it lays the ground for our relationship with our users. The goal is to show in a very brief period of time, what benefits they'll have if they choose our brand. Such a short time stems from the fact that consumers are now able to quickly gather information on our products and those of the competition.
How to boost the results of the acquisition phase?
The starting point is a detailed as-is analysis. Having data available on our existing lead generation strategies allows us to learn the strengths and weaknesses of the activated touchpoints, and then remedy any issues.
At this stage, having an omnichannel approach is another winning element, as it allows us to build a more profiled offering.
The channels that show greater effectiveness are:
Website: the main acquisition tool. With the right tool you can track visits, personalize communications and interact with users in real time;
Discover our Acquisition tool for your website: MagNews Web Experience.
SEO/SEM: useful for short- to medium-term acquisition (think of the launch of a product);
Email: the best performing channel for turning potential customers into actual customers;
Social Media: a post on LinkedIn, sponsored Ads on Facebook, a live tweet: small moments that can have great resonance thanks to the wide audience of social platforms.
These are the most effective tools a brand has at its disposal, finding the right mix determines the success of an acquisition strategy.
How can we also be successful in the next phase of the Customer Journey, conversion?
We'll explain it in our next release.