And what about you, are you ready to make the most of it? Have you already planned your Christmas strategy? Today, we'd like to talk to you about Digital Marketing for Christmas!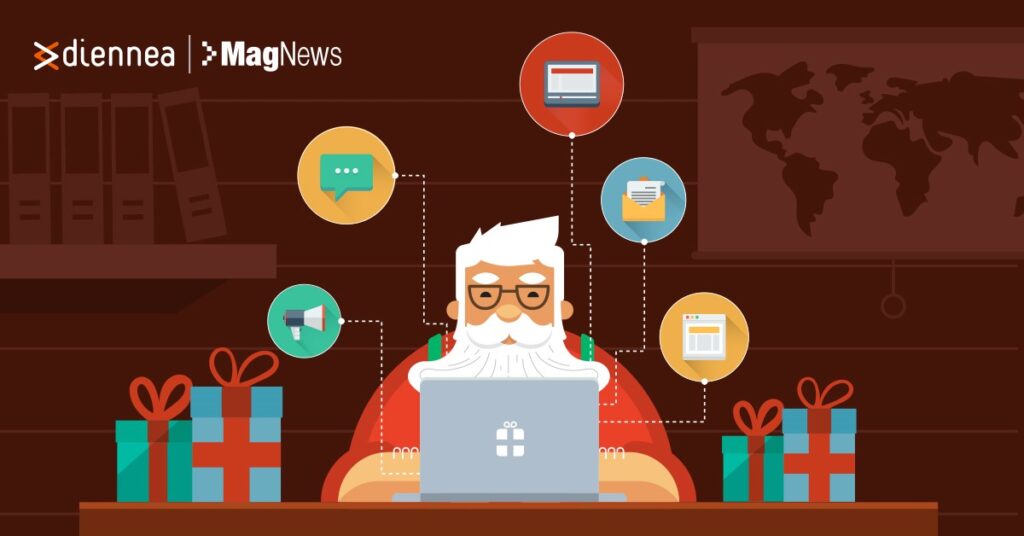 Digital Marketing for Christmas 2019
Whether you have a physical store or an eCommerce site, digital presence is essential.
The goals of your Christmas campaign should be clear: boosting sales.
But, how do we get there?
There are a few rules that are part of the Christmas "deal" that apply to any campaign.
Storytelling: "Around Christmas time, everyone behaves", well…it depends. Christmas certainly has a strong emotional impact, so why not take advantage of it to talk about your brand?
Content Marketing: In addition to storytelling, you can also decorate your content, such as blogs, to social networking posts, videos and more, with Christmas iconography.
Timing: kicking off your strategies right away allows you to have more visibility than your competitors, but also to "adjust the bar" in case something is not working.
In short, these are the common elements of all Christmas strategies, but how do we tailor our campaigns to each digital channel?
Email Marketing for Christmas
Adding an emoji will spice up your message (especially in the subject line). In the content, however, gif images have a great visual impact, much more so than individual images.
For this very purpose, AMP Emails, are coming to the rescue as a true gift for this Christmas!
They enable you to make communications interactive and dynamic, but above all to make them a real conversion touchpoint.
Indeed, AMP Emails allow users to sign up on forms, view a catalog, learn about new offers and much more while still remaining inside the email, without being redirected to an external landing page.
Just imagine the benefit of letting users complete an action without ever leaving their inbox.
MagNews already supports this new technology, want to try it out?
SMS & Mobile marketing for Christmas
Digital marketing for Christmas 2019 will be ever more mobile-oriented: last year, it was reported that 85% of Italians used their smartphones to do their holiday shopping (European Mobile Commerce Study, 2018), and this trend shows no signs of stopping.
This can only mean that the mobile phone is the most important channel to be found on.
Mobile responsive is the absolute mantra of Christmas 2019, a mandatory condition for all digital strategies; but we can go even further than that: take advantage of mobile for targeted campaigns.
You can simply send your customers a Christmas greeting, send a special offer to be used on your eCommerce, or invite them to your retail store with a promo code to be used at checkout.
Not only SMS: Push Notifications are also a valuable tool to reach your users. Instant, with an above 70% opt-in rate, they lead to extremely quick conversions.
Web Marketing for Christmas
Why just decorate your retail store, when you can also decorate your website?
You can bring Christmas iconography to your site, for example by customizing pages, or inserting elements, such as popups or themed banners.
With MagNews Web Experience, you can open up your site to countless combinations created just for you and your customers.
You could create popups in the shape of a Christmas tree, or insert a gif on your page that simulates a present ready to be unwrapped: in short, the possibilities are endless, it's only up to your creativity.
Customize your site with Web Experience, find out all you can do!
Digital Marketing and Christmas 2019: getting ready
As you've seen, there are so many ways to have a good holiday, the important thing is to prepare in time and offer something truly amazing.
That's why we have something new to offer our customers. Its a little surprise for them, but especially for their users.
Want to find out?
Just Contact Us, placing the keywords "Christmas Surprises" in your project description, and discover what we've got in store for you!